Overall victory in Barcelona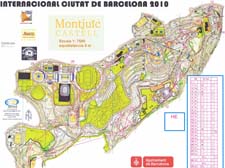 Today the second and last race of
TICBCN
in Barcelona was arranged with a medium long distance from the Olympic stadium, with most of the course in big hill with a castle on the top.
The course was fun to run with big variations in type of terrain. Some places it was difficult to understand from the map is you could pass a fence/wall or not, but I avoided and bigger mistakes, and could win 2 minutes in front of yesterdays winner Jonas Vytautas Gvildys from Lithuania. I was also winning overall, and cold cash in some money to cover the cost of my trip:-)
Results, splits and Routegadget
Orientering.no
have some comment from me after the race.
0 Comments
Posted on 21 Nov 2010 by Øystein