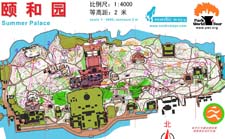 Yesterday the third and last Park World Tour race in China was arranged as a Sprint in the Summer Palace in Beijing.
I did not get any good flow in my orienteering, lost 5 – 15 seconds several places, and finished as 7th best runner, one minute behind Rasmus Djurhuus.
PWT.org
are updated with results, splits, maps and pictures and you can also find some more info on
Orientering.no
Note that the maps were not according to ISSOM (sprint-standard), so we were allowed passing the walls. But I lost time of running too much straight on some places, and I think Djurhuus not passed a single wall, but made it simple and was running around the walls and areas with many details.