PWT-2 and Chinese Middle Champs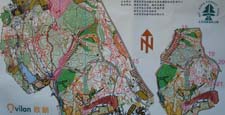 Today the second Park World Tour race in China was held as a part of the Chinese Championship in Middle distance in Beigong Forest Park. The area was quite hilly forest, with many counter details, and many runners did mistakes. The map was mainly good, but not perfect.
I am really satisfied with my performance, and my only mistake was 20 seconds of hesitation before the 2nd control. I won the race in front of Scott Fraser, who I caught with 2 minutes after half the course, and with 3 minutes down to Matthias Müller on 3rd place.
PWT.org
has results, splits, maps and pictures, but you can also find some info and results on
Orientering.no
and
OPN.no
0 Comments
Posted on 25 Oct 2010 by Øystein