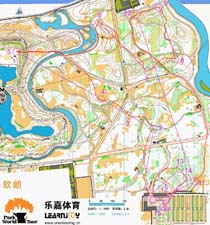 Yesterday the first Park World Tour race in China was held with a sprint in the North part of the Olympic Park in Beijing. The race was a part of the Chinese Championship with as much as 2000 participants.
The area was a combination of both parkland and mostly open forest. I did a quite good performance, and lost only a few seconds two places. My result was a shared 2nd place with Scott Fraser, 13 seconds behind Matthias Müller. Results on
PWT.org
and some more info on
Orientering.no
Much has happened the last days, and yesterday I was awake for 20 hours, including opening ceremony, the race, sightseeing in the Olympic park, closing ceremony with prize giving and finally a banquet. Today we have had an easy run on the Great Wall and been on the Silk Marked. Tmorrow we will run the next PWT race, a Middle distance. I have will hopefully have time to publish some pictures soon.