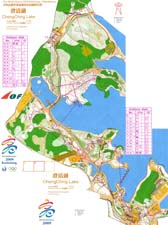 Today the World Games Middle distance was held from the Cheng Ching Lake in Kaohsiung. I did a quite good performance and came on the 6th place, 1.48 behind Daniel Hubmann who won the race. My only big mistake was to the 13th control, when I stopped too early and lost 25 seconds. Up to the bronze medal it was 40 seconds.
Results
,
splits
and
GPS tracking
In the Women's class Elise Egseth was running well most of her race, but lost the bronze medal when she missed the second last control with one minute. Hanny Allston won ahead of Minna Kauppi.
Tomorrow the Relay is held, and you can find more information and follow the races live on
IOF's World Games page
. Taiwan is 6 hours ahead of Central European Time. The Norwegian team is hoping to do well, and the running order is Lars Skjeset, Mari Fasting, me and Elise Egseth.