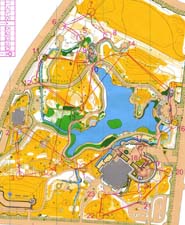 Today the World Games Sprint was arranges in the Museum of Fine Arts in Kaohsiung south on Taiwan. I did a good race and came on the 4th place, 3 seconds behind Tero F÷hr who won the bronze medal. Andrey Khramov won the race only 1 second in front of Daniel Hubmann, and they were as usual on sprint races in their own class. Lars Skjeset came 6th, so it was a nice day for the Norwegian team.
Results
,
splits
and
GPS tracking
In the Women's class Elise Egseth did a great race and won the bronze medal. Minna Kauppi won ahead of Hanny Allston.
Tomorrow the Middle distance is held, and you can find more information and follow the races live on
IOF's World Games page
. Taiwan is 6 hours ahead of Central European Time.
Articles from the local newspaper:
- Viktigere enn VM
and
Bronse til Egseth i World Games